Industry Leading Technology
The Better Voice platform is completely cloud based and geographically redundant. We have servers and infrastructure all over the world and our system automatically scales to support thousands of simulteously active calls over millions of lines and extensions. We have our own proprietary Voice API (similar to Twilio & Plivo) built on industry proven technology standards which allows us to offer a solution many times more flexible than any competitor on the market.
Our platform has you covered.
Flexible Solution Deployment & Pricing
Our platform is built on top of Docker. This lets us deploy a solution for you in the Cloud (AWS, Google, Digital Ocean, and more) or in your existing datacenter. More info on some of our open-source projects can be here: Engineering & Technology
We know how restrictive Seat based reseller pricing can be. Thats why we offer flexible Channel based pricing that includes ALL of our platforms features and capabilties including: Call Recording, Voicemail Transcription, SIP Device Registration, Billing, and much more.
An industry leader in Innovation and Open-Source
Telerest™

Voice API
A simple and scalable REST based Telephony API built on top of FreeSWITCH. Designed for Carrier, ITSP, and Enterprise deployments. LEARN MORE
Easily Deployable
Telerest leverages Docker to make it easy to deploy in any datacenter, colocation facility, or cloud.
Standards Based
Works with any SIP based VoIP carrier including Twilio's own SIP Trunking. Cut your costs in half!

Whitelabel PBX
Our entire Mobile PBX product can be whitelabeled and branded so your customers only see the brand you want to market. Our PBX includes a Web & Mobile Phone client, as well as all of the other features you would expect such as: Auto Attendants, IVRs, Voicemail Transcription, SIP Registration and much more.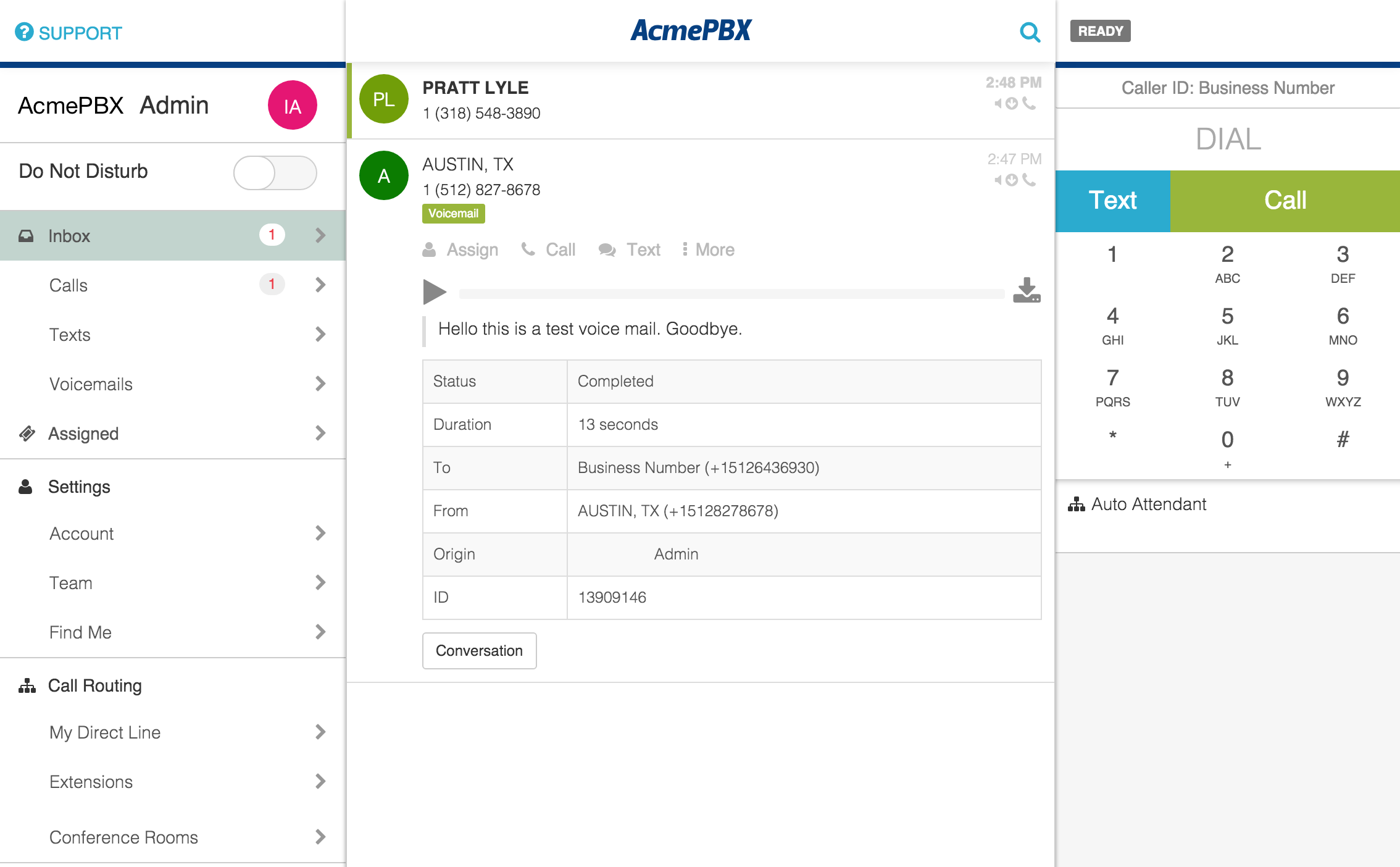 Our whitelabel platform includes a Automatic Credit Card billing system! Monthly invoices can be generated based on almost any metric including: Minutes, Numbers, Recordings, Extensions, and Users. Our credit card billing is Powered by Stripe, so we don't act as a middleman for your money.
Dynamic SIP Trunk
We offer the Industry first dynamic SIP Trunk. Our solution provides: Dynamic Local Outbound Caller ID, Answering Machine Detection, Call Recording, & Call Analytics. All these features are included at the SIP Trunk level, so you don't have to change any of the client or server deployed software or hardware.

Drag & Drop Call Flows
Our drag & drop Call Flow builder makes it easy to create customized solutions in-house, or for your end users. This feature can be made only accessible to Admins, or directly to customers.